My name is Dennis Kuhn and I'd first like to thank-you for taking the time to visit my website. I currently fly with the Heartland Federation which has 75 members strong. I've been racing pigeons for 25 plus years now, and have won races from 100-600 miles in that time. I've always had a soft spot for white racing pigeons, so when I started back up in pigeons again in 94', I decided to get some whites. The first few years I was lucky to even have the whites clock in within competitive racing time. After about three years of strict culling, picking up the best whites I could get my hands on, and selective breeding, they started to win. The same holds true with my Black Knight, Barless Baron, and Zippy Red families. The main reason I say this is because I want other pigeon fanciers who like myself enjoy the "not so normal colors", to know that success racing can be accomplished no matter what color you choose to fly. You must however realize that winning races depends a great deal on your original foundation stock and ability as both a breeder/handler. In many cases this doesn't happen overnight and aliitle bit of luck as well. I don't regret any of my hard work with improving my different colored families, even though I know my decision to not fly the standard blue bars or checks probably cost me afew more dipolomas along the way. Please enjoy the site and may this great pigeon hobby bring to you as much enjoyment as it has it has brought me through the years.
Below is an article that I had written and had published in one of the pigeon magazines about the history and the road to success that I have taken through the years in order to fly the "Not So Normal Colored Racing Pigeons". I hope that by reading it, it will help others understand better of how each family that I currently have has evolved over the years to not only be your non typical racing colors, but birds that win on a consistent basis at the club as well as combine level of competion.
White/Black/Barless Racing Pigeons
My name is Dennis Kuhn and I was asked to write an article about the path that led me down the unique road of racing pigeons that aren't your typical colors that most racing pigeon fanciers fly. They consist of my Whiteracer, Black Knight, Barless Baron, and most recently my Zippy Red families. Before I start, I'd like to first introduce myself. I currently fly with the Heartland Federation, that consist of fanciers in Minnesota as well as Wisconsin. I have been involved in racing pigeons since 85' with a short four year break due to job/relocating. I have been married to my wife Alisa for thirteen years now, and have a daughter Siri, and a son Bryce. When I started back up in pigeons in 93', I joined the Mankato River Racer Club (MRR) which is part of the Southern Minnesota Combine. In 2003' I joined the Gopher State Racer (GSR) club which at one point boasted one of the largest memberships in Minnesota during 03' & 04', but has since declined due to constant fighting/poor sportsmanship. In 07' I flew in both Heartland and GSR club, racing over 7,000 miles in a single old bird season, while racing in opposite directions and 26 races with the non-standard colors. After racing a double schedule for a few years; and being virtually impossible to beat in GSR, I was eventually forced out. I now race soley with Heartland Federation now, and am the furthest loft to the west with a front of 150 miles.
This leads me to the start of where I am today and the start of my Whiteracer family of birds. After having raced pigeons for a few years with the Twin Cities Combine, I was able to get back some of my old bloodlines from my good friend Damon Raze who I had given my birds to. I had always had a soft spot for whites/grizzles and now that I found myself having to start all over again, decided to concentrate on buildind a family of birds that not only were competitive racing, but also my favorite color. In the group of birds that I got back from Damon was a white grizzle hen that I nicknamed "Mrs Bond" due to her last three band numbers being 007. Mrs Bond was one of the last bitrds that I raised up in the Twin Cities and was successfully resettled and raced by Damon. She won 1st 200M, 1st 450M , and 2X 1st 600M. Her mother was 1st 500M club and 3rd overall in the Twin Cities Combine. Mrs Bond was to be one of my foundation hens of my Whiteracer Family that I have today. Some other key birds that I picked up along the way in my goal to race competitively white whites/grizzles are "German Ace" who bred Champion Bird as well as responsible for futurity/race winners to his credit. Two solid white cocks that I nicknamed "Kentucky Whites" which I believe were Hanssene based and originally down from stock purchased in Louisville Kentucky, hence the names. There was also "Pennsylvania Grizzle" who was sire/gr sire to numerous winners including "Denny's Prinbcess" who was 1st 300M and Champion Bird for me in 99' YBs. The last two impact foundation birds that I have today are "1188" and "1194" who are two direct children of the original German imports from Karl Krombach of Hamburg Germany in the 80's. I now had the base of my white family to work with, and what 85% of my Whiteracers go back to to this day. Call it "glutton for punishment"or maybe just my German stubborness coming out, but I wanted to win with whites and knew that it wouldn't happen overnight. Through the years of racing pigeons, I had heard all the stories that whites were only good for hawk bait and that I was wasting my time. One of my club members even razzed me on shipping night by asking me if I was going to ship all those "Blonds" when referring to my whites or pretty birds. From 94'-98' there were many races where my whites getting beat on race day was an understatement. Still, I knew that eventually things would have to change and they finally started to in 98'. I won my first diploma with a white from my assortment of breeders, and by 99' the Whiteracer Family had come around full circle.That year in young birds, I took 1st combine vs 607B 100M with a white grizzle (granddaughter to Mrs Bond), 1st 300M with another white, 2nd overall average speed in the A series races (five bird limit), numerous diplomas, as well as Champion Bird with a white (daughter of Pennsylvania Grizzle). Since then, I have never looked back and can attribute Grand Champion Best White three years in a row at Des Moines IA which is the largest solid white show in the U.S., 5X 1st overall average speed, and over 150 diplomas from 100-560M as well as in the shows during the off season with my Whiteracer Family. My road to success with the whites/grizzles took years of selective breeding, keeping only the best, and testing them week after week through racing.
During my quest to win with the whites, the blacks that I have nicknamed the Black Knights were the second family of racers that I wanted to master. I started working on developing teh Black Knights about the same time I got started with the whites.
The Black Knights all derive from a particular pair which was made up of a Black Eagle cock "904" crossed over with a Silvere Toye hen "2113". This pair is what some would refer to today as a hit pair or golden couple. The cock was directly off Black Eagle imports from Manny Maritz of South Africa and the founder of the Black Eagle strain. The Silvere Toye hen goes back to Dochter Dikko and Zoon Kleinen in her pedigree. This pair was responsible for contless club/combine/futurity winners all over the years in the Twin Cities Combine. The descendants of this particular pair dominated the 300M race station. The problem I had though was that I'd loose them when the race was less than favorable conditions. Then in 98' I introduced some solid black Peppermans that go back to a very successsful long distance flyer from the Twin Cities Combine for many years by the name of Ralph Trabant. Ralph has since retired from the sport of pigeon racing, but was a feared competitor when it came to the distance races. The staright Peppermans were some of the hardiest tough weather pigeons I have ever flown. The more miserable the race day was, the better they flew. I had found my magic cross for the Eagle/Toyes. I' like to make a note here that Manny Marritz Black Eagle strain was mainly based on Stichelbaut and Pepperman birds, which may also be a contributing factor of why the Pepperman outcross clicked as well as it did. In the last few years, the Black Knight family has scored in the money in the AU Convention, IF Convention, Mokan Futuroty, Twin Cities Gold Band, Twin Cities Auction, Midwest Young Bird Futurity, Beaver State Breeder Cup One Loft, Harmony Auction, and Crow River Futurity just to name afew. My work in creating a competitive black family of racers was a lot less time consuming, since I the quality that I started with was already there. I have found that they'll win from 100-500M but are still at their best at the short to middle distance. I have also crossed in some Meuleman and Stichelbaut along the way. Another advantage that I had working with the blacks, is that black is a dominating color. A fancier can cross just about any color with a black and get black youngsters out of the mating immediately in the first generation. The dilemma that I had with my Whiteracers and Barless Baron families was that I had to be alot more cautious in slective breeding to maintain the desired color while at the same time keeping the quality racing performance.
This leads me to my next family that I specialize in, which is what I refer to as my Barless Baron Family. The Barons are easily one of the most unique and probably biggest challenge facing me yet. I've been working with them now for close to ten years. In order to breed blue barless birds, you must have both parents carrying the barelss gene as it is recessive. In order to breed 100% barless, both parents must be barless themselves. The first time I saw a barless blue was in an ad, and I was immediatelytaken by their beauty. Up untill I saw the ad, I had never seen a barless that racing pigeon, let alone of a barless that could race competitively. After purchasing some barless to start my foundation with, I immediately started to cross them in with some of my best pigeons.In order to breed barless birds, you must have both parents carry the barless gene as it is a recessive gene. In order to breed 100% barless, both parents must be barless themselves. The first time that I saw a barless blue was in an add, and I was immediately taken by thier beauty. Up untill I saw that add, I had never seen a barless racing pigeon, let alone heard of a barless that could race competitively. After purchasing some barless to start my foundation with, I immediately started to cross them with some of my best pigeons. When a barless is crossed with a pigeon that doesn't carry that gene, a fancier will just get normal colors. An example would be breeding a blue bar when a barless is crossed with another blue bar. The young however out of this pair, will carry the recessive barless gene. When these carriers are then crossed back onto a barless, they'll throw anywhere from 25-50% barless youngsters. As you can see, it is a fairly lengthy process, but one I needed to do in order to get them as competitive as possible. Fortunately for me, my original stock had some racing performance in the pedigrees, so I wasn't starting from square one. In 02' YBS I was ready to put my breeding ability to the test. On the second 100M race of the season, one of my barless blues took 6th combine 655B 32L. On the 300M club race I had another barless blue take 3rd 229B and was only 2 minutes behind my white that took 1st. That same year I had entered a barless in the Crow River 300M One Loft Race and took 11th with only 13 day birds reported. In 03' I entered a different one loft race (Mid Minnesota One Loft Race) with a blue barless and took 6th (equal 4th) on the 200M and was one of only a handful of daybirds on the 300M series. The barless tend to be more of middle to long distance type pigeon, and the majority of winners in their pedigree are at 400-600M. The base that makes up my Barless Baron Family are Janssen, Devriendt, Van Loon, and Van Hee. Most recently I took Grand Champion Eyesign with one of my blue barless breeding cocks at the Htchinson KS Racing Pigeon Classic Show (one of the largest racing pigeon shows in the country). My Barless Baron Family mostly are blue barless, however I do occassionally breed yellow barless. I also have what I call silver barless (technically spread ash for all the genetic people out there) classified in my barless family. The Silver Barless all go back to a couple of silver barless Stichelbauts when crossed in with my Black Knight family. One of the silver barless that I raised I call "Silver Bullet" who was an excellent racer for me and diplomaed from 100-560M. In 2001 OBs, he was one of only seven daybirds in the combine at 560M and flew close to thirty miles further than my competitors as I am on the long end. Another silver barless that I named "Minnesota Silver" took 11th 1,383B 123L 2001' Minnesota State Race, and was multiple diploma winner from 100-450M.
This brings me to my latest colored family that I specialize in which i call the Zippy Reds. The Zippy Reds are made up of recessive reds and recessive red mottles. They are Meuleman based and seem to excell at the short to middle distance races. The Zippy Reds have crossed in very well with my Whiteracer and especially with my Black Knight family. The best Zippy Red/Black Knight cross is "Miss Black Knight" who was 1st vs 1,774B 100M and a week later was 1st vs 1,602B 150M in the Twin Cities Combine.
In conclusion, looking back on all the time and effort I have put into building up a competitive racing loft with the "odd" colored racers, it is definately worth it. I have always figured that even though it was alot of work and probably cost me a few more race wins/diplomas along the way, it is something that I can be proud of. I have also always told others that my birds eat the same amount as their blue bars or checks, and yet are alot better to look at everytime I feed or train them in my opinion. This is very important, especially when you live in Minnesota and the wind chill drops down below zero in the winter time!! I hope you all enjoyed my article and wish everyone the best of luck this next racing season.
Dennis Kuhn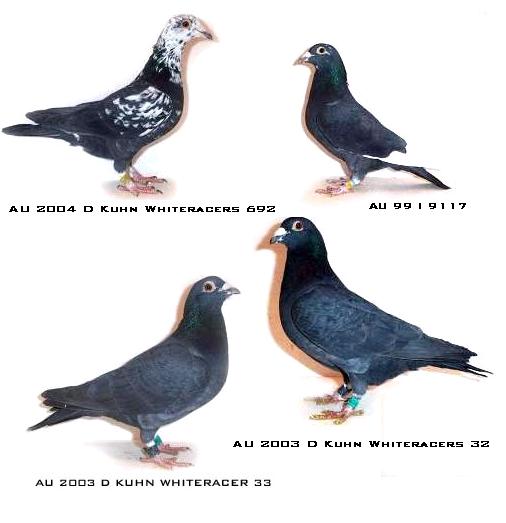 REMEMBER Quality

Breeds Quality